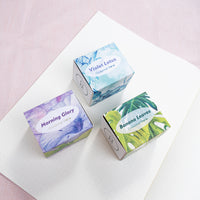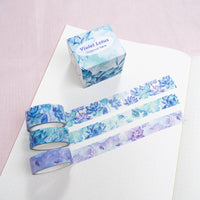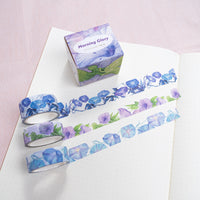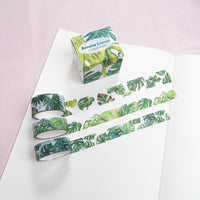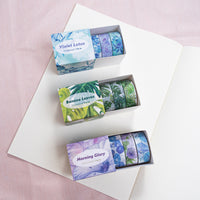 3 Rolls Floral Charm Washi Tape Set
Inspirations
• Floral charming and elegance: The idea behind this set of washi tape designs comes from the beauty and symbolism of banana leaves, violet lotus, and morning glory. These flowers have long been associated with love, transformation, abundance, prosperity, and spiritual enlightenment.

• Colorful drawings in versatile hues: This set of colorful drawings predominantly features green, violet, and blue colors, which are also ideal for bullet journaling and other decorative uses. With their vibrant hues and versatile applications, this washi tape set can add a touch of color and charm to various creative projects.

• Eco-friendly material: At Occasional Motto, we're committed to using sustainable materials in our washi tape production and provide a sturdy cardstock box made from eco-friendly materials with each set.
Material
• Length: 5 meters per roll
• Widths: 20mm (1 roll), 15mm (2 rolls)
• Material: Sustainable Matte Washi Paper
• Theme: Banana Leaves, Violet Lotus, Morning Glory
• Quantity: 3 rolls each set
Shipping
• Turnaround time: 24 hours