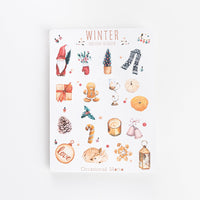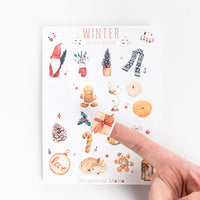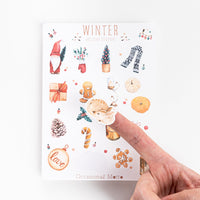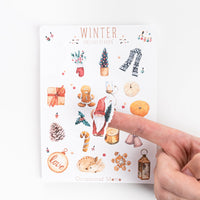 Lovely Winter Holiday Season Aesthetic Christmas Sticker Sheet
Description
Kiss Cut Sticker Sheet - Lovely Winter Collection 02
Theme: Holiday Season
Design date: December 2020
Designed, printed, and shipped from Irvine, California
Specs:

Material options:
- glossy (smooth and shiny appearance, color-rich and vibrant)
- matte (dull, softer appearance, glare-free)

Sheet Size: 5 x 7 inch (12.7 x 17.7 cm)

Quantity of Stickers: 20 objects per sheet - pine cone, pumpkins, gingerbread man, Christmas mittens, Santa Claus, Christmas tree, scarves, and more.

We hope this sticker sheet will become a great addition to your journaling and decorating adventures.
Inspirations
• Christmas collection:
We've added many festive objects into this collection to prepare you for a cozy Christmas.

• Beautiful watercolor kiss-cut stickers:
You'll find hints of fine watercolor art in every sticker design.

• Glossy vs Matte:
We experimented with two different sticker sheet materials, but we will let you decide which material you prefer to have the stickers printed on.
Material
• Glossy sticker sheet OR Matte sticker sheet
Shipping
• Orders will be shipped within 24 hours.