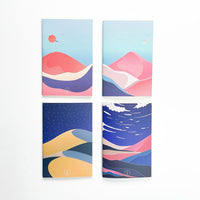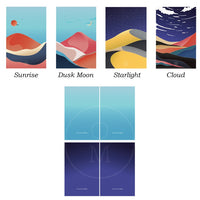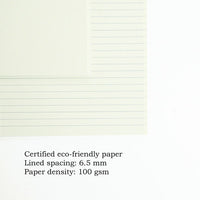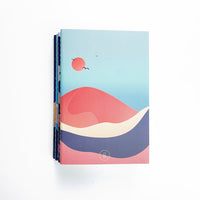 Set of 4 OM Imaginations Collection Sewn Binding Notebooks
Description
Specs
:
Size: A5 - 5.5 x 8.3 inches / 14 x 21 cm

4 Patterns: Sunrise, Dusk Moon, Starlight, and Cloud

Order quantity: Each order comes with all four patterns

Paper source: certified eco-friendly paper

Paper thickness: 100gsm, fountain pen friendly

Page count: 30 sheets / 60 pages
Layouts & Spacing:
Inspirations
Occasional Motto Imaginations Collection was inspired by little things that brought genuine happiness in everyday life. It is a collection designed to keep us connected to the world - a reminder to not forget about the important things that exist around us.

We're excited for you to meet our beautifully designed eco-friendly notebooks. The papers feature a light cream color - a color that isn't too sharp nor too subtle - but settled just right in between white and yellow, providing a comfortable color for the eyes.

Our notebooks pages are 100gsm - meaning they are durable and thick enough to prevent ink bleeding. These notebooks are made for any writing instruments, such as fountain pens, ballpoint pens, pencils, etc. They're highly versatile as they are great options for writing and sketching alike.

We hope that our designs bring you joy and resonate well with your daily inspirations. Stay tuned for more collections to come!
Material
• Eco-friendly 100gsm paper
Shipping
• Orders will be shipped within 24 hours.