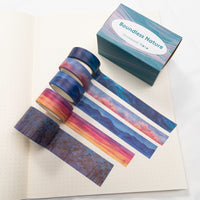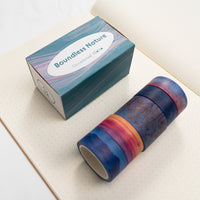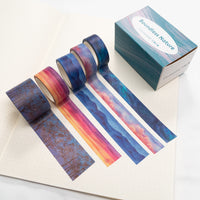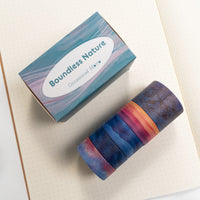 5 Rolls Boundless Nature Washi Tape Set - Signature Wide Collection
Description
Specs:
• Length: 5 meters per roll
• Widths: 30mm (1 roll), 20mm (2 rolls), and 15mm (2 rolls)
• Material: Sustainable Matte Washi Paper
• Quantity: 5 rolls placed inside a box
Inspirations
• Nature scenery: We drew 5 different designs to create this nature scenery washi tape set. The 5 designs include scenes of outer space galaxy, cloudy skies, serene mountainscape, sunset hues, and tranquil forest.

• Watercolor art: The drawings feature abstract colors finesse with gentle paint brush strokes to highlight intricate details.
Material
• Eco-friendly material: Our washi tapes and packaging are made from sustainable eco-friendly materials.
Shipping
• Turnaround time: 24 hours