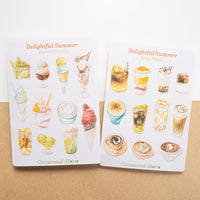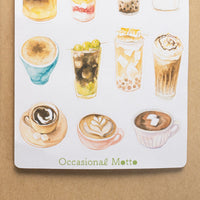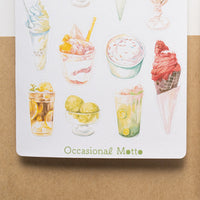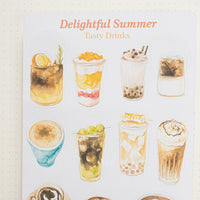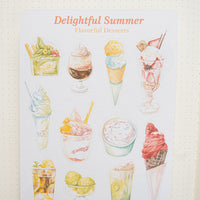 Set of 2 Delightful Summer Watercolor Sticker Sheets
Description
2 Kiss Cut Sticker Sheets - Delightful Summer Collection 01
Theme: Tasty Drinks and Flavorful Desserts
Design date: September 2021
Designed, printed, and shipped from Irvine, California
Specs:

Material options:
- glossy (smooth and shiny appearance, color-rich and vibrant)
- matte (dull, softer appearance, glare-free)

Sheet Size: 5 x 7 inch (12.7 x 17.7 cm)

Quantity of Stickers: 22 objects in total (11 objects per sheet) - a mouthwatering variety of boba drinks, sweet beverages, lemon iced teas, matcha green tea desserts, coffees, ice-creams, frozen yogurts, and more.
Inspirations
• Sweet Drinks and Yummy Desserts:
There's something magical about boba drinks, iced teas, desserts, coffees, ice-creams, and frozen yogurts - these beautiful treats are addictively delicious and visually stunning. It wasn't long before we realized we were sketching and turning our favorite sweets into sticker sheets.

• Watercolor style:
Watercolor artworks have heavily influenced our style - the brushstrokes create a gentle yet vibrant tone.

• Glossy vs Matte:
We experimented with two different sticker sheet materials, but we will let you decide which material you prefer to have your stickers printed on.
Material
• Glossy sticker sheet OR Matte sticker sheet
Shipping
• Orders will be shipped within 24 hours.